Hellhound
Creature Information
Element
Fire
Rarity
★-★★
Max Level
20-30
Skill
None
The Hellhound is a common-uncommon fire beast card. It has no special skills.
Wild and furious, the Hellhound uses its multiple tails to search for nearby prey. Once detected, the beast pounces and reduces its victim to cinders
Evolution Stage: 1
Edit
HP:315
ATK:174
Rarity: Common
Evolution Stage: 2
Edit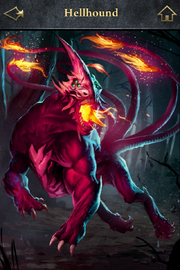 HP:466
ATK:261
Rarity:Common
Evolution Stage: 3
Edit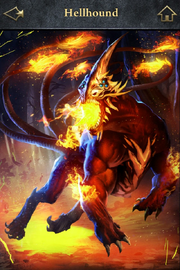 HP:544
ATK:302
Rarity:Common
Evolution Stage: 4
Edit
HP:601
ATK:339
Rarity:Uncommon
Ad blocker interference detected!
Wikia is a free-to-use site that makes money from advertising. We have a modified experience for viewers using ad blockers

Wikia is not accessible if you've made further modifications. Remove the custom ad blocker rule(s) and the page will load as expected.