Flame Pixie
Creature Information
Element
Fire
Rarity
★-★★
Max Level
20-30
Skill
None
The Flame Pixie is a common-uncommon fire pixie card. It has no special abilities.
Born from the spark of a flame, the Fame Pixie delights in setting her surroundings ablaze.
Evolution Stage: 1
Edit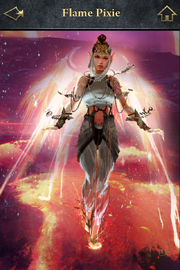 HP:150
ATK:299
Rarity:Common
Evolution Stage: 2
Edit
HP:236
ATK:438
Rarity:Common
Evolution Stage: 3
Edit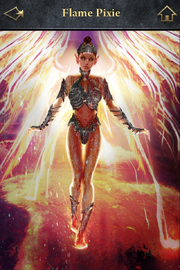 HP:279
ATK:493
Rarity:Common
Evolution Stage: 4
Edit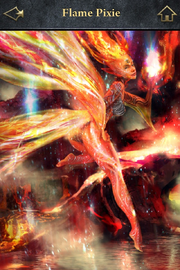 HP:310
ATK:563
Rarity:Uncommon
Ad blocker interference detected!
Wikia is a free-to-use site that makes money from advertising. We have a modified experience for viewers using ad blockers

Wikia is not accessible if you've made further modifications. Remove the custom ad blocker rule(s) and the page will load as expected.